Home - Christmas Music for clarinet
Christmas Clarinet Duet Book, by Kyle Coughlin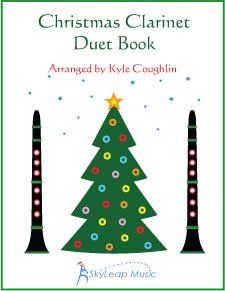 The Christmas Clarinet Duet Book features twenty five of the most popular songs, arranged for two clarinets. Scroll down for a free sample of all 25 duets in the book. Each duet is written specifically for the clarinet with beginner and intermediate students in mind. Ten of the songs are all in the lower register, and fifteen are in both the upper and lower registers.
The Christmas Clarinet Duet Book has 55 arrangements of 25 songs, with at least two versions of each song -- one with the melody entirely in the top line of the parts, and one with the melody traded back and forth between the two clarinet parts.
The appendix includes four extra carols for more advanced players: two more arrangements of Jingle Bells, and arrangements of O Christmas Tree and Silent Night.
Visit the main clarinet Christmas music page for free printable sheet music of the solo parts for each of these carols.
Buy the print edition of the Christmas Clarinet Duet Book from Lulu.com
Buy the PDF edition of the Christmas Clarinet Duet Book from Gumroad.com
Buy the PDF edition of the Christmas Clarinet Duet Book from Payhip.com (using PayPal)
Free samples of all the carols in included in the Christmas Clarinet Duet Book
The following songs have duets arranged entirely in the lower register.
Select a link for free samples of the duets.
The First Noel
God Rest Ye Merry, Gentlemen
Good King Wenceslas
Hark! the Herald Angels Sing
In the Bleak Midwinter
Jingle Bells
Jolly Old St. Nicholas
Joy to the World
O Come, All Ye Faithful
O Little Town of Bethlehem
These carols are arranged for two clarinets in the lower and upper registers:
Angels We Have Heard On High
Away in a Manger
Deck the Halls
Ding Dong! Merrily on High
Here We Come A-Wassailing
The Holly and the Ivy
In Dulci Jubilo
I Saw Three Ships
It Came Upon a Midnight Clear
Jingle Bells
O Christmas Tree
Silent Night
Up on the Housetop
We Three Kings
We Wish You a Merry Christmas
What Child Is This?
Purchase the Christmas Clarinet Duet Book, digital PDF or print version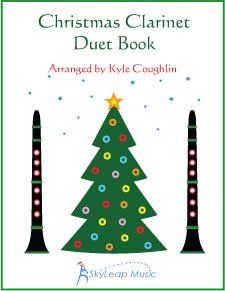 Details on the print edition and the PDF edition
If you buy the print edition from lulu.com, they do the printing for you, and the quality is excellent. The cover is color, but the pages inside are all black and white. It is more expensive than the PDF edition, but you don't have print any pages yourself.
The PDF edition is available from Gumroad and Payhip. Payhip accepts PayPal transactions, and Gumroad accepts credit cards. The PDF version of the book is less expensive than the print version, but you have to print the pages yourself. Also, some of the fonts are in green and red type, for a more festive feel. The PDF version is great if you have a good printer, or you just want to read the music from your computer or tablet.