Jingle Bells sheet music
Quick Links:




Select a link below to jump to one of the following arrangements of the full version of
Jingle Bells:
Piano
•
Wind and brass instruments
•
String instruments
•
Recorder
•
Lyrics
•
Lead sheet with chords
Sleigh bell metronome
: )
Jingle Bells is one of the best known and most popular Christmas songs ever. It was written by James Lord Pierpont, an American composer who lived from 1822 to 1893. Pierpont composed many popular tunes in his career, but none were as successful as Jingle Bells, which had the original title of "The One Horse Open Sleigh." The song was published in 1857, but there is some question about the date and location of its composition.
There are those who claim that Jingle Bells was written while Pierpont was living in Medford, Massachusetts, even though he published it while he was living in Savannah, Georgia. Given the snowy topic of the song, if Pierpont did compose it while in Georgia, we can assume that he was thinking of his former northern home. The average snowfall for Savannah is currently 0.4 inches per year. A one horse open sleigh in Savannah in winter would most likely be traveling in dirt or mud.
In spite of it's great popularity as a Christmas song, the lyrics make no mention of Christmas at all. The song was originally published as music for a Thanksgiving service, but because of its catchy melody, winter theme, and spirited lyrics, it quickly became a hit at Christmas.
Select an image below for a printable PDF of the Jingle Bells sheet music with melody and chords, or the Jingle Bells music with lyrics. Scroll down further for links to versions in many other keys in treble, bass, and alto clefs. Find the appropriate range for your voice or instrument, or select an instrument image at the bottom of the page for specific arrangements of Jingle Bells and other carols. You can also view and print the lyrics to Jingle Bells without the sheet music.
For a shorter version of Jingle Bells, view the easy arrangement of Jingle Bells.
Use a sleigh bell metronome to practice Jingle Bells and all of your Christmas songs!
For a countdown to Christmas, visit the How Many Days Until Christmas page. The Two Happy Bears are excited about the holiday and are eagerly counting every second!
Printable PDF of Jingle Bells lead sheet:
Printable PDF of Jingle Bells sheet music with lyrics: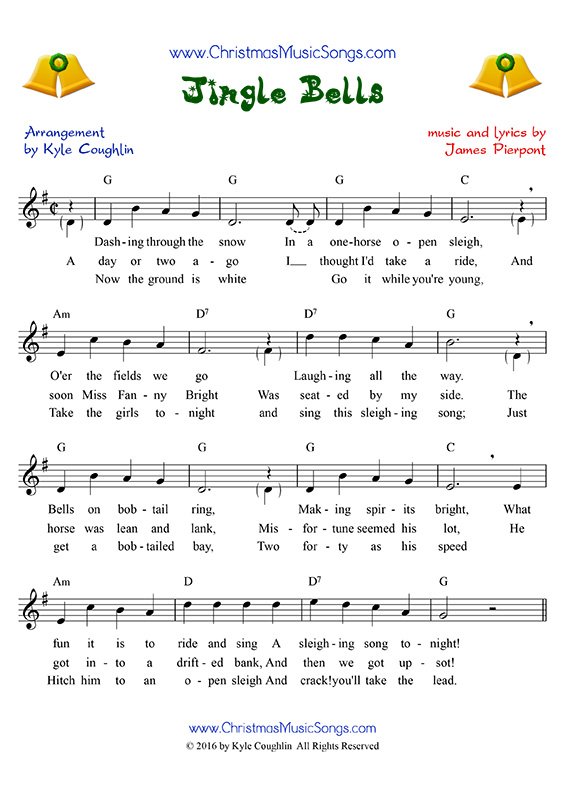 Jingle Bells for wind and brass instruments
Jingle Bells for string instruments
Jingle Bells for recorder
Jingle Bells for piano
More keys! Select a link below for a printable PDF of Jingle Bells in any of the following keys, for treble, bass, and alto clef.
Treble clef versions of Jingle Bells:
Bass clef versions of Jingle Bells:
Alto clef versions of Jingle Bells:
Jingle Bells with Fluffy and Ivy


Visit the Two Happy Bears