Deck the Halls sheet music with lyrics
Quick Links:




Select a link below to jump to one of the following arrangements of
Deck the Halls:
Piano
•
Wind and brass instruments
•
String instruments
•
Recorder
•
Lyrics
•
Lead sheet with chords
Sleigh bell metronome
: )
Deck the Hall (often referred to as Deck the Halls) is a Welsh carol that dates back to the 1700s, or perhaps even earlier than that. Like many traditional carols, we do not know who composed the melody. The lyrics of Deck the Hall are a happy invitation to celebrate the season, regardless of the harsh, cold weather that is typical of December.
Select the song image below for a printable PDF of the Deck the Hall sheet music, or Deck the Hall music with lyrics. Scroll down for many versions of the carol in several different keys, in treble, bass, and alto clefs. You can also select an instrument image at the bottom of the page for more Christmas songs for your instrument.
For a countdown to Christmas, visit the How Many Days Until Christmas page. The Two Happy Bears are excited about the holiday and are eagerly counting every second!
New! - Play this song along with piano! Piano accompaniment parts for Deck the Halls are now available to accompany all instruments and singers, in free, printable PDF format.
You can also practice all of your Christmas music with a sleigh bell metronome!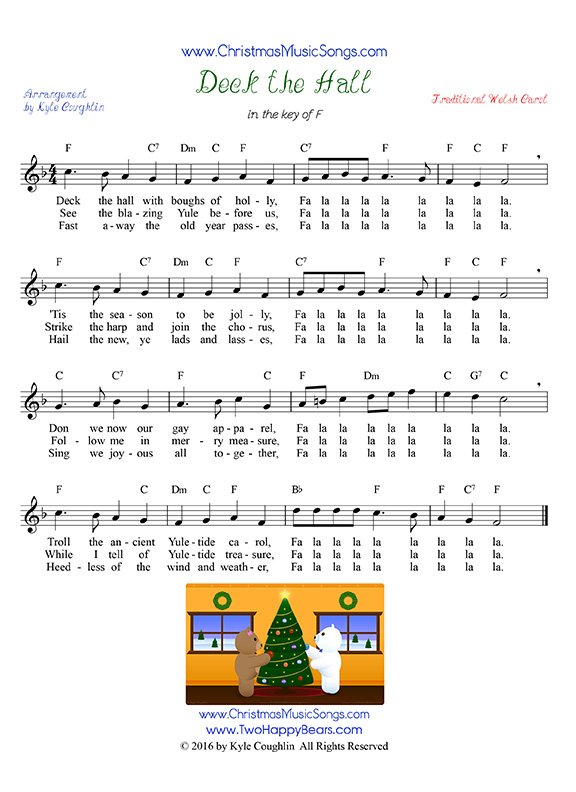 More keys! Select a link below for a printable PDF of Deck the Halls in any of the following keys, in treble, bass, and alto clefs.
Deck the Halls for piano
Deck the Halls for band instruments
Deck the Halls for string instruments
Deck the Halls for recorder

Treble clef versions of Deck the Halls:
In the key of A (higher version)
In the key of A (lower version)
In the key of B flat (higher version)
In the key of B flat (lower version)
In the key of C (higher version)
In the key of C (lower version)
In the key of D
In the key of E flat
In the key of F
In the key of G
Bass clef versions of Deck the Halls:
In the key of A
In the key of B flat (higher version)
In the key of B flat (lower version)
In the key of C (higher version)
In the key of C (lower version)
In the key of D (higher version)
In the key of D (lower version)
In the key of E flat
In the key of F
In the key of G

Alto clef versions of Deck the Halls:
In the key of A
In the key of B flat
In the key of C
In the key of D (higher version)
In the key of D (lower version)
In the key of E flat
In the key of F
In the key of G
Deck the Halls with Fluffy and Ivy


Visit the Two Happy Bears