Home - Christmas Music for piano
Deck the Hall sheet music for piano
Deck the Hall (often referred to as Deck the Halls) is a very popular old Welsh Christmas carol that was probably composed in the 1700s. There are five sheet music versions of Deck the Hall for piano here in the key of G, for beginners to more advanced players. Select one of the images below for a free printable PDF of the carol.
The beginner version of Deck the Hall for piano features the melody in the treble clef staff. The easy version of Deck the Hall for piano splits the melody between the right and left hands. The simple version of Deck the Hall for piano has a basic left hand accompaniment line that complements the melody. Deck the Hall for piano intermediate version 4 has a harmonized accompaniment. Deck the Hall for piano advanced version 5 features a more complex arrangement with harmony and moving notes in the left hand.
For a lead sheet with chords, visit the main sheet music page for Deck the Hall. It includes arrangements of the carol in seven different keys, as well as links to the song for band and string instruments and recorder. The lyrics to Deck the Hall are also available. Visit the Christmas music for piano page for an explanation of the different arrangements of the carols, as well as sheet music for many more songs.
New! - Play this song along with instrumentalists and singers! Deck the Halls piano accompaniment parts are now available to accompany all instruments and singers, in free, printable PDF format.
Version 1: Free printable PDF of the Beginner Version of Deck the Hall for piano
Version 2: Free printable PDF of the Easy Version of Deck the Hall for piano
Version 3: Free printable PDF of the Simple Version of Deck the Hall for piano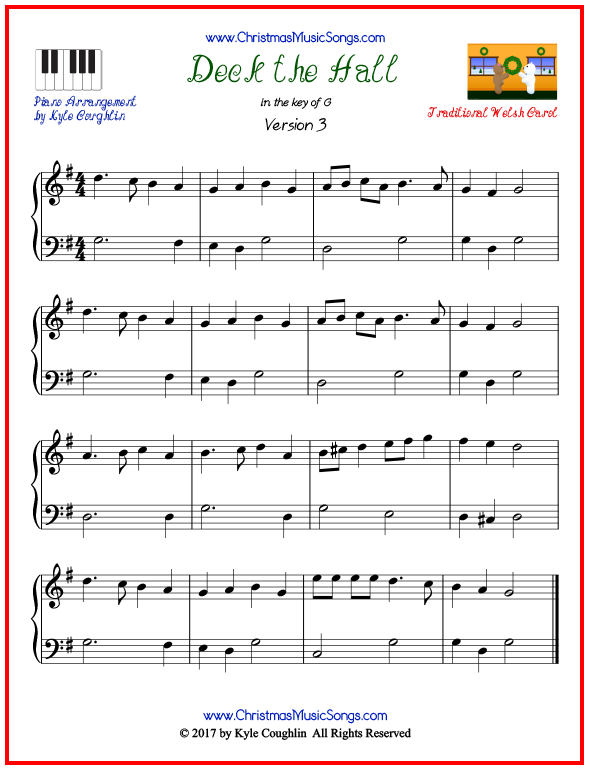 Version 4: Free printable PDF of the Intermediate Version of Deck the Hall for piano

Version 5: Free printable PDF of the Advanced Version of Deck the Hall for piano