Welcome to the Christmas Music Practice Challenge!
Celebrate Advent by playing or singing a Christmas song every day from December 1 to December 25! You can keep track of your daily practice by using any of the coloring sheets below. Each sheet has a Christmas tree with twenty five shapes of either triangles or round ornaments (excluding the trunk and the star). Color one of those shapes every day you practice, and by December 25, you will have a colorful Christmas tree! Here are some coloring ideas for a couple of the sheets, but you can always choose your own colors, too.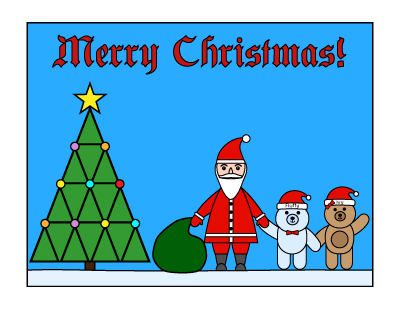 Each coloring page includes other elements that you can color — the message at the top, the star, Santa, and the Two Happy Bears. Make it fun by practicing several songs a day, and coloring another part of the page when you do. The coloring pages can apply to months other than December, too. You can use them during any time of the year. If you like the Two Happy Bears Christmas images, you can see more of their adventures.
If you are not sure what music to practice, this site is filled with sheet music for carols for all instruments, including Christmas music for piano, for woodwinds and brass, for strings, and for recorders, as well as the lyrics. Scroll down for a link to sheet music for your instrument, or go to the main index for a list of Christmas song sheet music in many different keys.
The basic coloring page has a Christmas tree with twenty five triangles in it - one for every day of Advent. Each day you practice, color one of the triangles so that by December 25th, and you will have a fully colored Christmas tree. You can color the star and the words, too. The next coloring page features a Christmas tree that has sixteen triangles and nine ornaments (or lights) that you can color on each day that you play or sing a Christmas song, from December 1st through the 25th, or longer. The third and fourth pages feature the Two Happy Bears and Santa, for more coloring fun! Merry Christmas!
Christmas Picture Coloring Pages
Select an image below for a printable PDF of each Christmas song practice coloring page.
Simple Christmas Tree

Christmas Tree with Ornaments

Christmas Tree with the Two Happy Bears

Christmas Tree with the Two Happy Bears and Santa