Home - Christmas Music for piano
Bring A Torch, Jeannette, Isabella sheet music for piano
Bring A Torch, Jeannette Isabella is a beautiful French Christmas carol composed in the Provence region in the 17th century. There are five sheet music versions of the song for piano here in the key of C, for beginners to more advanced players. Select one of the images or links below for a free printable PDF of the carol.
The beginner version of Bring A Torch, Jeannette Isabella for piano features the melody in the treble clef staff. The easy version splits the melody between the right and left hands. The simple version of the carol has a basic left hand accompaniment line that complements the melody. The Intermediate version includes the melody in the right hand, with a slightly more complicated left hand accompaniment and some harmonies, and the advanced version has the melody in the right hand, with chords and moving lines in the left hand.
For a lead sheet with chords, visit the main sheet music page for Bring A Torch, Jeannette Isabella. It includes arrangements of the carol in seven different keys, as well as links to the song for band and string instruments and recorder. Visit the Christmas music for piano page for an explanation of the different arrangements of the carols, as well as sheet music for many more songs.
Version 1: Free printable PDF of the beginner version of Bring A Torch, Jeannette Isabella for piano
Version 2: Free printable PDF of the easy version of Bring A Torch, Jeannette Isabella for piano
Version 3: Free printable PDF of the simple version of Bring A Torch, Jeannette Isabella for piano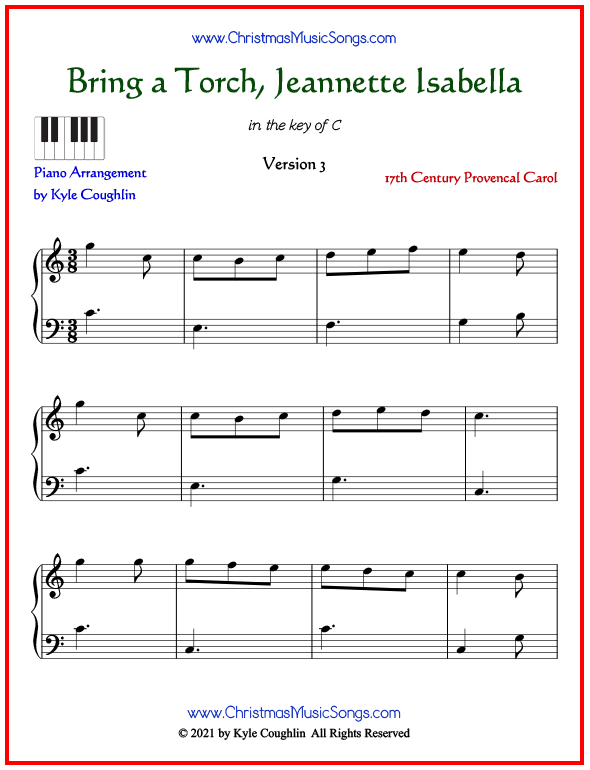 Version 4: Free printable PDF of the intermediate version of Bring A Torch, Jeannette Isabella for piano

Version 5: Free printable PDF of the advanced version of Bring A Torch, Jeannette Isabella for piano